Welcome!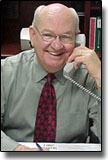 This page is designed for residents and visitors seeking information about real estate and personal property taxes. Our goal in the Craighead County Assessor's office is to provide our citizens with convenient and friendly service. Please feel free to contact me about this site or any matter of concern.


Craighead County Assessor
Mission Statement
Our mission is to create equitable, timely and accurate property tax assessments to fund public services. We will strive to be a source of accurate and timely property information for local government and the community.